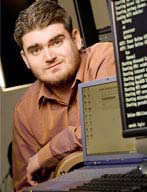 Jedidiah R. Crandall

Associate Professor and Associate Chair, University of New Mexico, Department of Computer Science
Ph.D., Computer Science, University of California at Davis, 2007 (thesis)
B.S., Computer Science, Embry-Riddle Aeronautical University, 2002

The principle that guides my research is this:
it shouldn't be so easy for those who control the Internet to exercise censorship and surveillance without full transparency.
My research group develops cutting-edge techniques for inferring what's really going on on the Internet and in software that connects to the Internet. Some of our recent work includes:
If you're viewing this page from a mobile device or on a small screen and you don't see a menu to the left, click the "Toggle Menu" button above to see options for other pages.