« On Missile Defense (part II) | Main | Our ignorance of intelligence »
January 31, 2005
On being interdisciplinary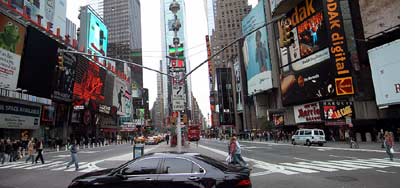 I've been on the East Coast for two weeks for reasons of both work and play. I started at the MIT Media Lab working with Nathan Eagle on some really amazing network analysis stuff. It was cold, there was some peripheral unpleasantness not connected with him (he was actually good about it as it was happening), but it was great to be in a totally new environment thinking about totally new things. Plus, I got to hang out with friends from the Santa Fe Institute summer school I went to a couple of years ago. Then I went to Holyoke where I got to visit an old old friend that I haven't seen in ages. Jessica drove me down to Yale, where I visisted my friend Robin Herlands which was wonderful and stimulating and fun, despite having 18 inches of snow dumped on us that weekend. I met her friends, played "Cups" for the first time (I'm a natural - who knew?), and bonded with her hyperactive kitten Charlie. Then, I went to New York City to see one of my closest guy friends Trevor Barran. Despite his being completely overworked, that week was fabulous at least for my being able to cavort in a city that I have fallen completely in love with over the the culture, the closeness, the speed and the density. Nights of drinking and philosophizing and meeting people, followed by days of work and wandering and wondering.
One of the things I love most about my line of work is that it's largely quite accessible to smart people who aren't in my field. It's even accessible to people who aren't in academia at all. Sharing these things and getting people excited about the work is what makes me believe that what I'm doing is perhaps meaningful or worthwhile. And given the unrelenting pressure to produce new results at a constant (or accelerating) rate, this kind of support is like oxygen. In meeting so many new people during the past few weeks, I often got asked to describe my research. This is hard: I don't have a niche; I don't have a well-defined field. There is no obscure property of a complicated system that will bear my name, and there is no unifying framework that my work nicely fits inside of.
So, I've used the term "research cowboy" to describe what I do, since my work bears rough similarities to riding into a town, solving some problems that no one else has solved yet, and then riding out of town before I get too comfortable. I should make the French surrealist painter Francis Picabia my patron, for having once uttered the words "One must be a nomad, traveling through ideas as one travels through countries and cities." This is exactly what I find so stimulating about academia, but if it can't support my habit for the long term, then ultimately, I'm going to want out. The only distinctions I see between fields like physics, chemistry, biology and geopolitics are those arising from our inability to sufficiently understand their similarities and their structure. The universe makes no distinction between these things, so why do we?
My advisor once said to me that being interdisciplinary is both easy and hard. On the one hand, there is often a lot more "low hanging fruit" (oh, how academics overuse that phrase) in interdisciplinary fields, but on the other, endemic ideological gravitation requires that is one is twice as smart, twice as rigorous and twice as good at explaining the relevance of one's results in order to be taken seriously by the fields one is jostling. There is no Nature or Physical Review Letters for interdisciplinary work, and there are no Departments of Interdisciplinary Research.
And so, I am worried about several things. I am worried that I don't have the endurance to keep up with the grueling work schedule that academic research entails. I am worried that I won't continue to have interesting things to say about the world in my ill-defined fields. And I am worried that because I am neither a physicist nor a computer scientist that I won't be able to find a job in either, or that whatever job I do end up finding won't provide me the flexibility that I need. If I can't be interdisciplinary, I can't keep working. Does anyone know of any openings for a Research Cowboy?
posted January 31, 2005 10:32 AM in Self Referential | permalink
Comments
'Research Cowboy' fits nicely, and I'm sure academia has a place for such a renaissancee man. Non-traditionalism may not be rewarded as greatly at the large research universities, but the nice thing for theorists like us is that we can go anywhere and collaborations don't cost the same thing as microscopes. Perhaps Haverford will have two openings in about 5 years. . . . (although I don't have any great desire to return to the east coast and its weather any time soon).
Posted by: Joshua at February 1, 2005 11:36 AM
It's incredibly relevant that our research is relatively costless. When I was visiting Robin at Yale and getting the tour of her immunology lab, it was just driven home in a significant way that lab work is an extremely costly way of generating results, but at the same time, incredibly important. Here's to hoping that Haveford or similar places will be open to the crazies like us!
Posted by: Aaron at February 1, 2005 02:12 PM